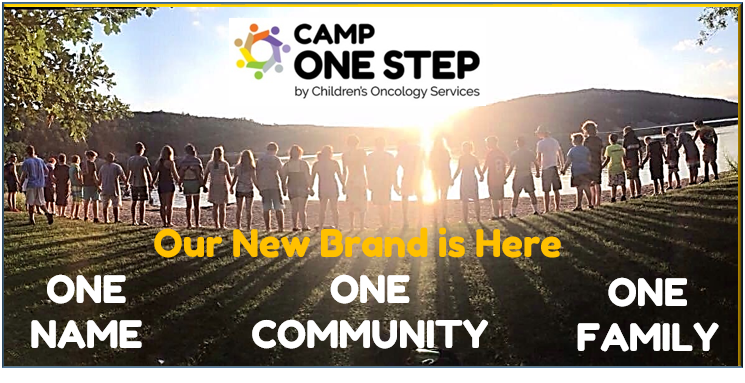 Children's Oncology Services, Inc. Rebrand Camp One Step
to Reflect Nonprofit's Vibrant Programs and Community
CHICAGO, IL – (July 7, 2017) –Children's Oncology Services, Inc. is proud to announce their rebrand, Camp One Step, as a milestone achievement on the part of the growing nonprofit. The new official name of the 39-year-old organization is Camp One Step by Children's Oncology Services. The nonprofit made this change to center on one name that would most accurately describe who they are, and searched to better reflect the vibrancy of what the organization does.
How do you take an extraordinary nonprofit serving children who have been diagnosed with cancer, and help it reach its full potential as a brand?  According to Camp One Step President Jeff Infusino, the nonprofit felt that it was time rebrand the organization with a name that truly represents their community. "Our community of campers, volunteers and donors are our strength and we wanted a name that would accurately reflect that," said Infusino. "To accomplish this, the team spoke with campers, parents, volunteers and donors throughout the rebranding process, to ensure that the new brand would capture the essence of our past, present and future."  Through those discussions, and with the help of The Distillery Project, Camp One Step found a new way to tell their story:
Cancer is an unbelievable weight on a child's life. At home and at school, physically and emotionally, it changes everything.  Their days become increasingly defined by a shuffling between appointments—hospital to hospital, treatment to treatment.
But living with cancer is about more than just cancer, especially for kids—vibrant, loving, tenacious, incredible kids. It's about living. We saw a need to provide these kids new and exciting experiences, so we built Camp One Step on these fundamental truths:
Childhood is invaluable. We give kids the opportunity to run and play, to laugh and learn, to practice a favorite hobby or try something new.
Community is an incredible source of strength. We offer them a space to meet people and make friends, to share stories and inspiration.
Our campers are unstoppable. We encourage them to take on the world.
Kids possess an inherent strength—the bravery to live, not just with cancer, but boldly and beautifully in spite of it. They are open-mined and open-hearted—they empower each other to push beyond the boundaries of their diagnoses. Camp One Step, inspired by our campers' determination, is dedicated to moving forward together.
The name CAMP ONE STEP has a deep connection to its community. CAMP represents a symbol of lifelong friendships and family, ONE signifies togetherness, meaning no one faces a cancer diagnosis alone, and STEP symbolizes moving Forward Together. Everything the nonprofit does is about moving forward. They instill the mindset in their community that anything is possible if you believe in yourself and they stress that the camp family always believes in and supports one another. Not only was a new brand created, but also a new logo website and email addresses to reflect Camp One Step. All of the nonprofit's social media channels were also updated to reflect the rebranding.
The Distillery Project, a Chicago-based creative agency, helped tackle the issue the nonprofit had with its brand and name confusion, helping them articulate  the goals and mission of the organization. Touched by Camp One Step's mission, The Distillery Project facilitated the complete rebrand at a deeply discounted cost to the nonprofit.  The entire process took almost 12 months from conception to completion, culminating with the rebranding that now accurately reflects what Children's Oncology Services, Inc. facilitates:  helping to move their community forward to take the journey of a childhood cancer diagnosis together, through their popular camp programs.
"Camp One Step is an inspiring group of people, who together, have created something awesome. We wanted to help tell their story in a way that represents the entire camp community," said Jack Flannery, Strategist at The Distillery Project.
The new colorful logo has deep meaning to the nonprofit. The circle form reflects the appearance of intertwined arms, with each dot representing a different member of the camp community (campers, counselors, volunteers, etc.), while the linking resembles the Camp One Step treasured friendship bracelets that campers create and exchange with each other every year.  The logo has a circular formation of movement, as the nonprofit continues to help more and more children and families in a forward moving manner.  The colors of the logo have deep meaning as the official colors of the top pediatric cancer ribbon symbols, from leukemia to brain cancer.
"This brand unveiling symbolizes the camp community perfectly, as we are constantly moving forward," said 15-year-old camper and cancer survivor Maggie Conlon.
Since its inception, more than 14,000 campers have attended Camp One Step. The nonprofit offers 11 programs including its traditional Summer Camp to meet the needs of families with children with cancer. These programs include Brian Tumor Family Camp, Chicago Day Camp, Dude Ranch, Family Camp, Seabees, Sibling Camp, Utah Ski Program, Washington D.C. Program, Whitewater Rafting and Outdoor Adventure, and Winter Camp.
ABOUT CAMP ONE STEP
Camp One Step, by Children's Oncology Services, Inc. is a non-profit charitable organization dedicated to improving the quality of life of children diagnosed with cancer. Through our programs, we offer camp experiences and other programs throughout the year that allow children with cancer to just be kids. Our programs offer fun, friendship and support in a safe and nurturing environment. We exist to heal scars that no one can see such as fear, isolation, depression, lack of support and no longer fitting in. Through community, support and shared experiences with peers, we deliver happy, pain free medicine called "camp." The organization is supported by more than 350 volunteers, including medical professionals, who generously donate their time and services.  For more information, please visit www.camponestep.org. Camp One Step is a recognized 501(C) 3 organization.
CONTACT:
Stephanie Krol
773.580.9726
UNVEILING CAMP ONE STEP
http://camponestep.org/wp-content/uploads/2017/07/Community-Image.png
383
745
Jeff Infusino
http://camponestep.org/wp-content/uploads/2017/10/camp-one-step-logo-1.png
Jeff Infusino
2017-07-06 21:43:49
2017-07-07 16:09:16
Children's Oncology Services Launches New Brand