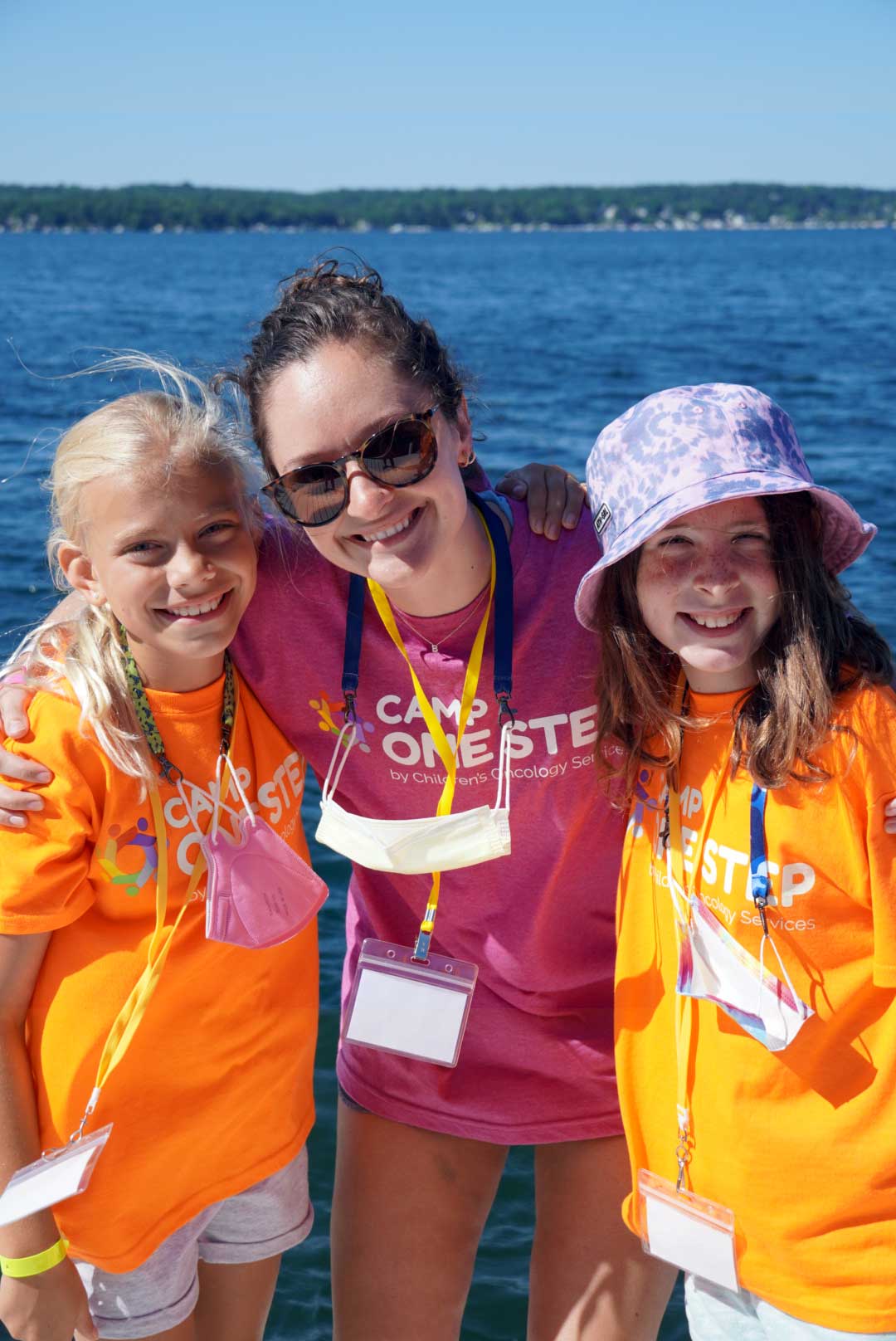 Thank you so much for your interest in volunteering for Camp One Step.
We are a volunteer-driven organization, and rely on our amazing volunteers to make our programs possible and our fundraising events successful. In fact, more than 400 dedicated volunteers donate over 100,000 hours of their time each year to our organization.
Is there an age requirement in order to volunteer?
We require that all of our program volunteers be at least 21 years of age by the start of the program for which they are volunteering.
You mention that Camp One Step is a volunteer driven organization. What does that mean?
We have a small management team that is fortunate to have the support of more than 400 volunteers (including many former campers).  In fact, approximately 1 in 5 of our volunteers are former campers themselves. Individuals for all professions and backgrounds. Our volunteer medical staff is made up of doctors and nurses from local area hospitals.
How do I complete an application to volunteer?
Our volunteers are able to complete an easy, online application through the registration system (Ultracamp). If you are interested in volunteering for a specific program, you may click onto that program page, and you may see an "Application" button.
Alternatively, if you wish to know which programs we have (upcoming), or to join our email list, you may create an account (without applying to a program), by clicking HERE.
What kind of screening is done?
After you submit your application and supportive materials, first-time program volunteers will receive an interview. In addition to an interview, applicants must be able to pass a background screening.
If I volunteer for a program, do I have to stay for the entire time?
We do ask that our counselors stay for the entire duration of the program. There are exceptions to Summer Camp, whereas some volunteers will lead what are known as "mini-camps" for one or two days.
Will I receive training to prepare me for my role?
Each program volunteer will receive pertinent information and training, which will be relevant to their role and position for that program. In addition to this, you may receive information about mandatory online webinar training, as appropriate to your role.
You mention webinar training, what is that?
Webinar training is a tool that we use to educate and prepare volunteers. It serves the dual purpose of both allowing us to present the same, consistent training and information to all applicants and volunteers, regardless of their location. You may complete the training in the comfort of your home.
The other purpose is that it allows us to have the documentation necessary to illustrate that we are training our staff with a regulated set of standards, to ensure that we are providing a safe environment for both our campers and volunteers.
Mandatory training webinars are required once per calendar year. This means that you must complete them once per calendar year, for every year that you choose to volunteer your time.
Are there system requirements to complete webinars?
You will need a device with internet access (Smartphone, tablet, or computer), so that you can view the information and answer the questions.