Summer Camp – Williams Bay, Wisconsin
Fun is spelled C.A.M.P.
In this option, campers will enjoy the fun of classic camp with activities like swimming, fishing, water craft, sports and games, and field activities. They will experience the joy of time away from home and newfound friendships.
STEPPING UP
11-12 years old
These campers participate in classic camp activities while focusing on learning independence and building self-confidence. Some of these activities include swimming, fishing, water craft, sports, and games and field activities.
In All Camp Experience (ACE), campers will participate in classic camp activities along with specialized experiences led by "expert" activity leaders. Whether it be basketball, arts & crafts, magic, or STEM, ACE is the place to come explore everything camp has to offer!
EXCURSION
13-16 years old
In this unique travel camp, campers in Excursion will spend the week on various field trips to local places of interest. Navy Pier, Great America, The Milwaukee Zoo, and The Wisconsin Dells Water Park have all been highlights in the past! The itinerary changes every year, but the joy of adventure remains the same!
WATERSPORTS
13-16 years old
Love the water? This camp is for you! Participants can plan to spend their session enjoying fun in the water in many different ways – water fights, swimming, paddle boarding, snorkeling, and SCUBA certification just to name a few. And that's not all – come experience fun on land with campfires, outdoor movies, and more!
CAMPCRAFT
13-16 years old
Campcraft is geared towards the teen adventurer! Participants live, eat, learn and play outdoors. Campcrafters sleep in tents that they pitch, eat food that they cook, and gather round the campfire every night to strum guitars, roast marshmallows, and bond over the day's events. In Campcraft, lasting friendships are built through teamwork, togetherness, and a true love for the outdoors.
In Excel, friendships – whether lifelong or newfound – are really what it's all about. Time spent bonding over conversation is just as important as volleyball, swimming, or Chopped food challenges. Excel campers will revel in their favorite camp activities in their last years as campers while serving as role models for the younger kids on campus.
Participants in the Seabees Leadership Program are former campers 20 years and older who have limitations due to their disease, treatment, or other factors. Seabees participants are sent invitations once they are age eligible and go through a special application process. Notifications to eligible applicants for the 2023 season have been sent. If you are interested in being a participant in the Seabees, please reach out to Hopper at [email protected] or Devin at [email protected].
Guided by facilitators, this camp focuses on personal growth through achievement and service to camp. We are in need of additional facilitators for this program. If you are interested in working with active adults charged with mentoring, service to camp, and personal growth, this would be a great camp for you!
This leadership training experience is offered to past participants of any Camp One Step camp who want to take One Step Further (OSF). Notifications to eligible applicants for the 2023 season have been sent. If you are interested in OSF, please reach out to Hopper at [email protected] or Devin at [email protected]
Meet your

Program Director
Erin Fullmer,
Program Director
Erin was diagnosed with leukemia in 1987. Dr. Baum, the founder of Camp One Step, was her oncologist and suggested to Erin's parents that they send her to Summer Camp. She first came to camp as a camper in the summer of 1990 and became a volunteer in 2003. Erin is currently the Program Director for Summer Camp but has also been a counselor for Summer Camp, Winter Camp, Dude Ranch, the former White Water Rafting Program, Brain Tumor Family Camp, Sibling Camp, and Family Camp. She has also run the Chicago Marathon twice for Team One Step.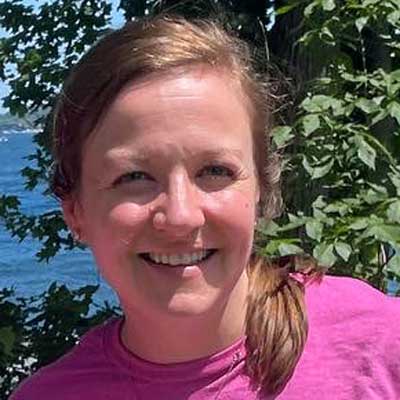 "The program staff continue to knock it out of the park. My daughter came home with a full heart and beyond happy."
-Camper parent
"My camper was so excited to share her experience with her (non cancer kiddo) friends. I feel like she is more willing to share with them that she survived cancer after her Camp One Step experience – she is not afraid to talk about it."
-Camper parent
"Thank you for offering this amazing opportunity for her to connect with others, play and just have fun! She has been so isolated through this journey through a new life after treatment, and these camp experiences help so much with boosting her comfort level to interact with others. We are so grateful for all you do! Thanks!"
-Camper parent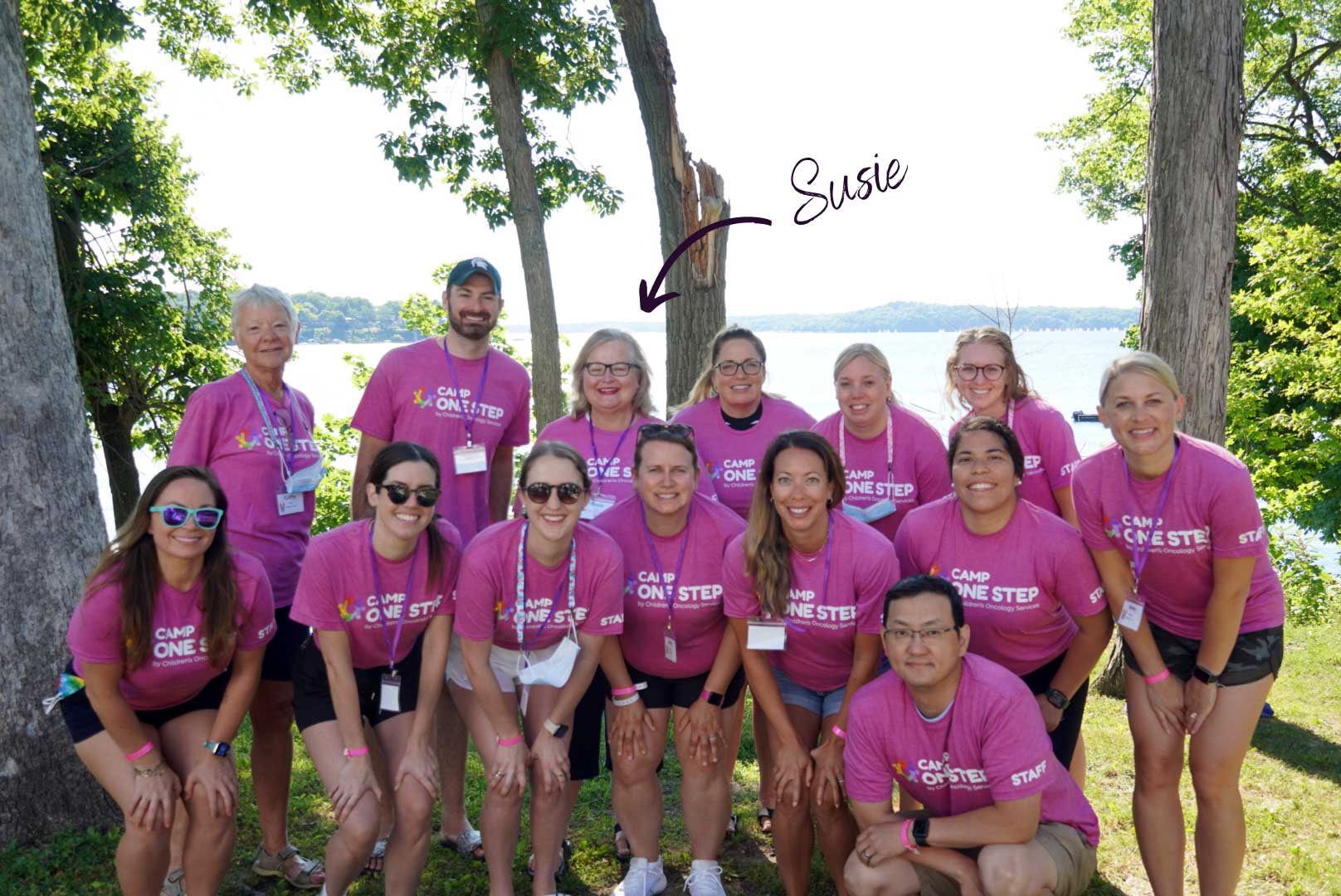 Camp One Step's Medical Director, Susie Burke, leads our volunteer medical team. The Camp One Step medical team is comprised of volunteer physicians and nurses who have a passion for working with children and adolescents who are or have experienced the challenges of a life threatening illness. Even though it is important to have staff with pediatric oncology experience, we also welcome staff with other clinical backgrounds such as general pediatrics, adult oncology, emergency, and ICU to name a few. The medical staff work closely together in teams to address the medical needs of each camper. Our goal is to promote the health and well-being of the campers in an atmosphere of fun.
About our camps
Devin Ryan Director of Program Operations
Email: [email protected]
Phone: 312.924.4220
Jessica Hopper Director of Program Operations
Email: [email protected]
Phone: 312.924.4220
Madeline Brown Programs Coordinator
Email: [email protected]
Phone: 312.924.4220
About our CONNECTED programs
Mark Lowry Senior Manager, Digital Programs
Email: [email protected]
Phone: 312.924.4220
About our medical team
Susie Burke Medical Director
Email: [email protected]
Phone: 312.924.4220