From the moment a doctor utters the words "you have cancer", time stands still and the images of that day are forever burned into memory. From that point forward, time accelerates and shuffling from appointment to appointment, hospital to hospital, and treatment to treatment takes over. A child's perspective changes overnight, and everything is different at school, physically and emotionally, and he or she is instantly thrust into survival mode. But when children arrive at Camp One Step, everything changes once again. This time, life slows down as children are surrounded by other kids just like them. They share similar stories and inspiration is given free at every turn. New memories are etched into their lives and the kids get back to really living.
By offering fun, recreational and educational activities at camps held throughout the year, Camp One Step brings children together in a non-hospital setting where they find hope, support and understanding from their peers who understand a cancer diagnosis. Furthermore, we provide these camp opportunities at no cost to families. 
Dec
27
Fri
2019
Winter Camp

@ Conference Point Center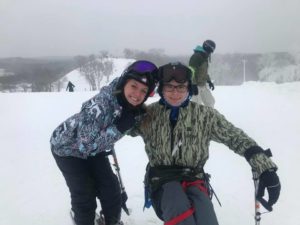 The sight of familiar faces makes Winter Camp the best kind of warm-up during the week between Christmas and New Year's Eve.
Campers get together to rekindle their friendships during five days of skiing, snowboarding, tubing and tobogganing. The indoor fun includes swimming, arts and crafts and games.
For Camper Families:
Thank you for your interest in participating in Camp One Step. We have eleven amazing programs throughout the year. Click here to learn more about all Camp One Step programs.
For Volunteers:
Thank you for your interest in volunteering with Camp One Step. Whether you have a weekend, week or flexible schedule throughout the year, our programs offer a variety of volunteer opportunities. Program volunteers are the key part of making Camp One Step programs happen . For more information on all of our volunteer opportunities. Click here to learn more
For questions, or to submit your forms:
Contact Darryl Perkins
Email: dperkins@onestepcamp.org
Fax:  312-878-7374 | Phone:  312-235-6838